Bayside orthodontists meet our team
At Bayside Orthodontists our team works together to create healthy, beautiful smiles for all our patients. We love seeing the results orthodontic treatment can make and are here to care for you throughout your treatment journey.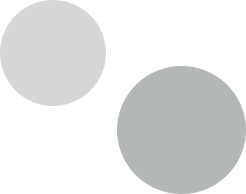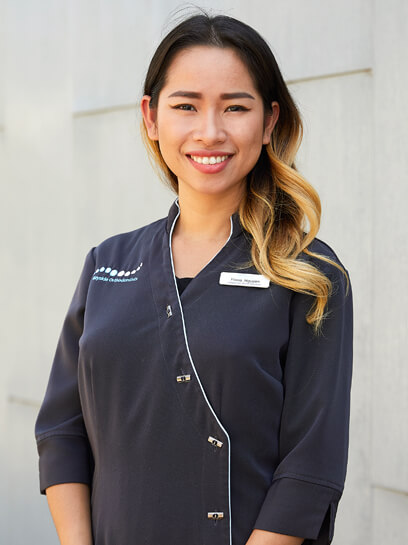 'The Smile Sparkler'
Fiona
Dental Hygienist
Fiona joined the Bayside Orthodontists team in 2014 as a full-time Dental Assistant after completing her Bachelor of Oral Health degree at Newcastle University, NSW. With a Vietnamese background, she was keen to become familiar with the Australian standard of an Orthodontic practice. Fiona speaks fluent Vietnamese and English and completed her Bachelor of Dental Technician course in Vietnam. She is now an expert of laboratory related issues at Bayside Orthodontists.
Fiona is our first, fully qualified Dental Hygienist at Bayside Orthodontists. She works in multiple fields from patient education, assessment, to supportive therapies during Orthodontic treatment and maintaining dental health. She loves helping her patients improve their tooth-brushing techniques and improve their oral hygiene. When Fiona isn't at work she loves to cook, travel and sing karaoke, and has recently become an Australian citizen.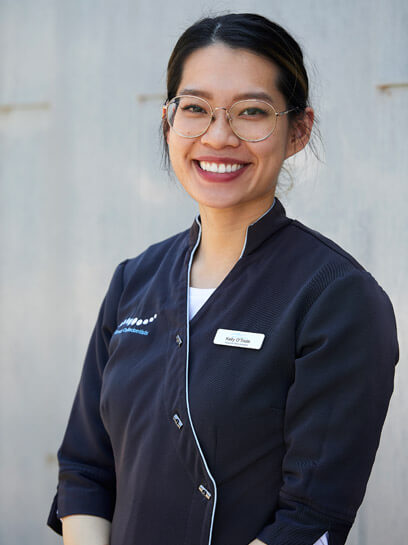 Kelly
Dental Hygienist
Kelly graduated from CQUniversity in Rockhampton with a Bachelor of Oral Health Therapy.
Since graduating she has been practising in both private and public general dentist settings, in Queensland and Victoria.
Kelly believes in bettering her skills and furthering her education to provide the best possible dental care for patients. She is committed to trying to make appointments more comfortable for all patients.
Kelly loves animals, especially cats; loves to travel and enjoys staying active.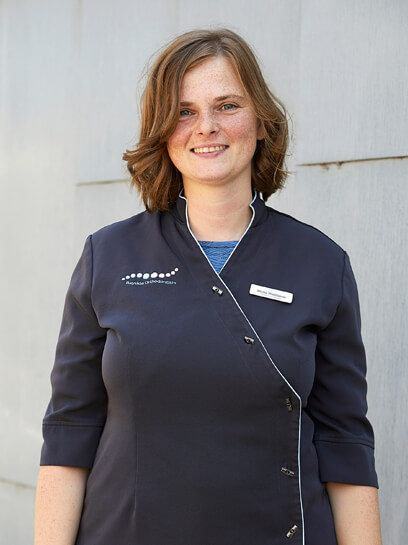 'The Smile Coordinator'
Micha
Clinical Coordinator
After moving from Sydney in 2016, Micha joined Bayside Orthodontists with a strong dental background. As our Clinical Coordinator and Health Information Manager, she's involved in every part of our patients' treatment; from the initial consultation through to the final appointment. Micha helps taking clinical photos and 3D scans and will be discussing your wishes and concerns, and coordinates your treatment needs with your dentist and other specialists. Micha is fluent in German and Dutch, and when she is not at work she enjoys exploring the outdoors with her partner Rick and L.C., their Aussie Bulldog. She keeps her body and mind fit with Yoga, pilates and running.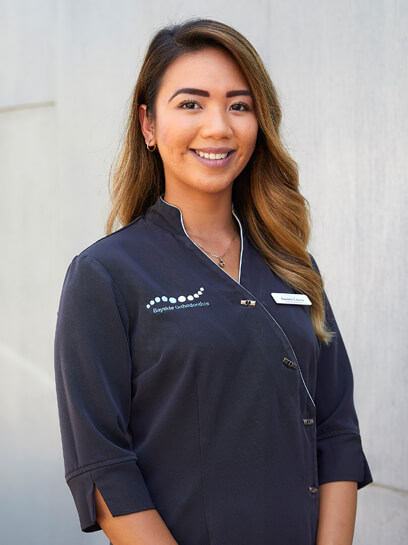 'The Smile Coordinator'
Danielle
Clinical Coordinator
Danielle moved from Mildura in 2017, and has for the last 3 years, been working as a dental assistant in the dental and orthodontic field. She enjoys working in orthodontics as she has seen first hand the confidence that a perfect smile brings to patient's lives.
You'll meet Danielle at the initial consultation as well as throughout your treatment. From the first to your final appointment she works closely with our orthodontists to coordinate and support your orthodontic journey. Outside of work, Danielle enjoys going on hikes and fishing with her partner. She also enjoys training at the gym to keep fit.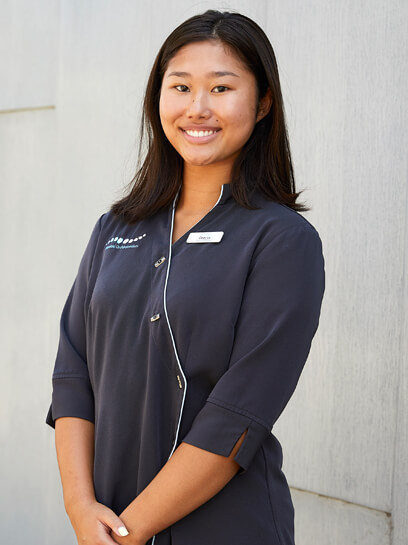 Cindy
Dental Assistant
Cindy is an integral part of the team and assists our orthodontists and hygienist during your appointments. Currently she is studying a Bachelor of Science majoring in Environmental sciences while she enjoys working in orthodontics. Besides work and studying her interests are similar as her co-workers – staying fit and having a healthy mind set.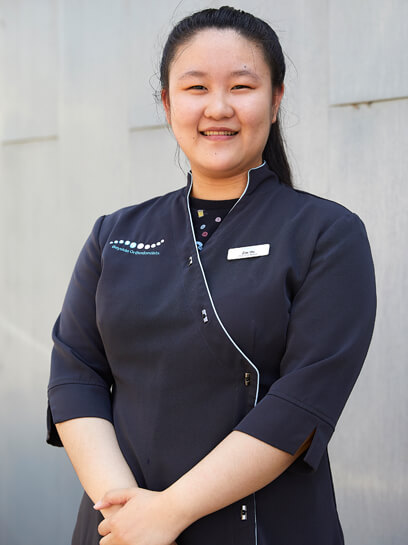 Zoe
Dental Assistant
Zoe has been working at Bayside Orthodontists as a casual dental assistant since July 2018. Currently studying at the University of Melbourne, Zoe and is grateful for being able to gain experience in orthodontic assisting with the lovely team at Bayside.
Born in Shanghai and moving to Melbourne at the age of three, Zoe speaks fluent Mandarin and 'Shanghainese'. During VCE she studied Japanese as a subject and still pursues her Japanese studies at university. Zoe loves to travel and would love to go to Iceland to see the Northern Lights one day.
Music plays a big role in Zoe's life with American and Korean pop music and classical music being her favourites. Since the age of 5, Zoe's played the piano. Apart from music, she's recently taken up boxing lessons to achieve her health and fitness goals.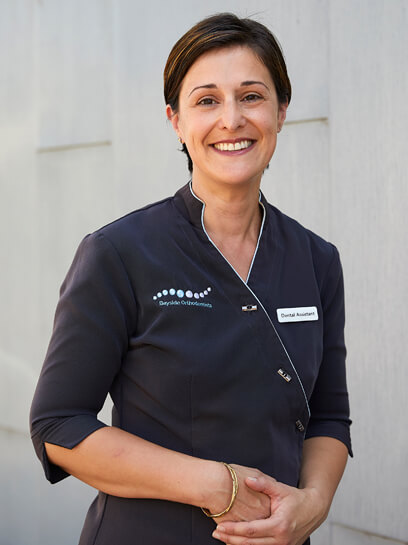 'The Smile Admin'
Georgina
Administration / Reception Support
Georgie joined the Bayside Orthodontists team as our Administration Coordinator in 2019. She keeps our orthodontic practice running smoothly with front desk support, patient relations management, digital and social media and general administration. With 20 years experience in dental and orthodontics in clinical and practice administration roles, Georgie keeps us organized, calm and focused on our patients.
Outside of work, Georgie leads a busy family life with her husband, 2 sons and dog Chewie. She enjoys keeping fit, entertaining and travelling and also speaks fluent Greek.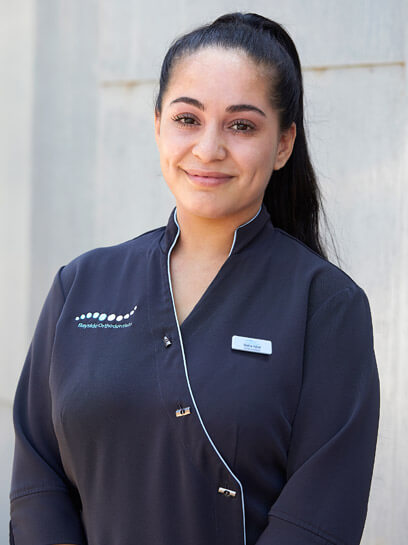 Aisha
Orthodontic and Admin Assistant
Aisha joined the Team at Bayside as a full time orthodontic and admin assistant. You will meet Aisha at the start of your appointments taking your photos as well as assisting our orthodontists and hygienists with your treatment.
Aisha's cultural background is Lebanese and Tongan, and she prides herself in being an advocate for cultural diversity. Outside of work Aisha loves a good workout and to read. She also studies criminology to keep her mind and focus engaged, whilst working full time at Bayside Orthodontists.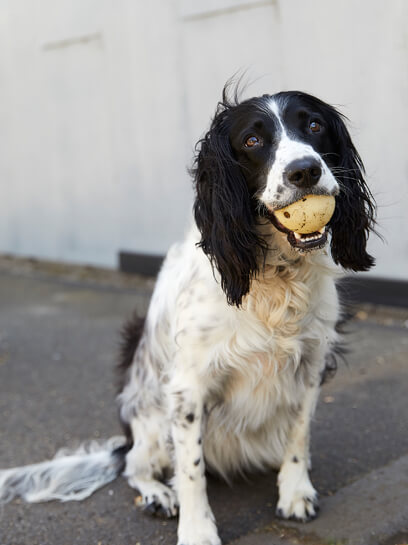 Chelsea
Our own Smile Therapy dog
Chelsea has been with our practice for the last 5 years since she was a puppy. Her main role is to provide stress management for Dr Britt and the team. You'll find Chelsea relaxing in reception or wandering the hall trying to see if anyone is interested in a coffee or lunch break. She enjoys providing pats for interested patients and their families. Outside of work Chelsea's favourite past time is fetching.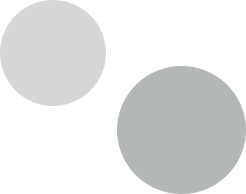 Ready to meet the team?
Book your consultation today and meet our fabulous Bayside Orthodontists team.